What kind of

insurtechs

fit the DIA stage?
Challengers

Enablers

Tech leaders

Disruptive solutions by insurers
Exciting, provocative, innovative proven insurtech solutions
Enabling insurers to accelerate digital transformation.

True business impact; on cost savings, customer engagement and revenue growth.

Applications with traction. Tried and tested in practice.
Any technology: AI, APIs, IoT, machine learning, RPA, advanced analytics, e-identity, blockchain, core systems, robo-advice, smart home, telematics, wearables, e-health, social, you name it.
Any part of the primary process or value chain: e.g. sophisticated underwriting, automated claims management, fraud management, even leaner operations, superb customer onboarding, effective customer acquisition, increased loyalty and advocacy, new products and services.

Any business line: life, health, property and casualty, business line agnostic, and everything in between.
Fit the 'show&tell' format of DIA
Clear innovation, mission critical benefits, concrete proof points.

Demo – so that the audience can really experience the added value.

Interesting to the global DIA audience.

Co-presentation insurtech partner /insurance carrier may increase the impact even more.
Previous Insurtech leaders on the DIA stage
Why you should
take the stage
Presenting yourself on the DIA stage leads to more business; new leads, future clients and fresh investors. Here's why
Global exposure: 1,200+ Attendees – 50 Countries – 6 Continents.

Real decision makers: 80% of insurance executives is C-level and C-1.

95%+ Paying attendees (hungry for conversations and doing business).

Major investors from across the globe, all in one place.
Boost your brand awareness and reputation,
by being associated with a leading premium event and fellow handpicked insurtech leaders.
The opportunity to compete for the prestigious DIAmond Award. Previous winners such as Trōv, DataRobot and Ladder are now renowned insurtechs.
What other

insurtech leaders


say about DIA
Why

DIA stands out

from
other insurtech events?
DIA is coined as 'the must see insurtech event'
Absolutely the largest, most global and significant insurtech invent of Europe.

The most premium 'innovation in insurance' event.
A distinctive premium format and ambiance
Focused on connecting the real change agents in insurance.

High level audience. WOW experience.

Positive vibe, genuine hospitality and premium quality, all geared to accelerate business.

No boring trade fair or labyrinth of company booths you'll only get lost into.

No third-rate coffee and long lines at uninspiring buffets.
DIA takes Insurtechs center stage
Present to over 1,200 decision makers in our impressive auditorium in a single stream.

Part of the same line up as renowned top-level thought leaders.

No half-empty rooms. No long list of free invitees who don't show up.

No risk to end up presenting for just a few yawning people in a 'convenient' (and totally uninspiring) meeting room. 

Opportunity to compete for the prestigious DIAmond Award. Previous winners are now renowned insurtechs.

Year-round marketing platform. Access to the 12,000+ global DIA insurtech community.
Premium support to get the most out of your stage time
Active mentoring by seasoned industry experts to prepare and rehearse your pitch.

Based on their experience with hundreds of insurtechs already.

On stage rehearsal with our AV team to secure a flawless flow.
A professional high-quality video of your presentation
Produced like a TV show.

Multiple camera angles.

Professional camera crew and editing team.

The video can be used for marketing and sales.
What the Show&Tell
package includes
8 Minutes of showtime in front of the whole DIA audience
A single-stream presentation format, to ensure maximum audience attention.

The opportunity to compete for the prestigious DIAmond Award for most strategic impact.
Loads of networking opportunities to grow your business
Predesigned booth in the Networking Area on the day of your presentation.

Inclusion in the DIA networking app.

Sneak peek of the attendees before the event.

Side events invitations for even more networking.

Sufficient tickets to get the most out of the event.
A boost to your brand awareness and reputation
The DIA year-round marketing platform promotes your company before, during and after the event.
Editorial article about your solution, written by Roger Peverelli and Reggy de Feniks. Check

Qover 

, 

Trōv

, 

BIMA 

or 

TrueMotion

.

Coverage in the well-read DIA Newsletter (12,000+ readership).

Inclusion in the DIA Community website (500,000+ annual visitors), one of the most used and appreciated information sources for insurers and investors.

Broad exposure through the various DIA social media.

Inclusion in the annual DIA Top 100 insurtechs, a reference-book for insurance executives.
Professional high-quality video and photos of your presentation, to generate new business, way beyond the event. Check Kryon, Buzzvault or Wrisk.

Your logo scattered all over the place: on our website, agenda, logo boards etcetera. They will know you are present.
What makes DIA
totally different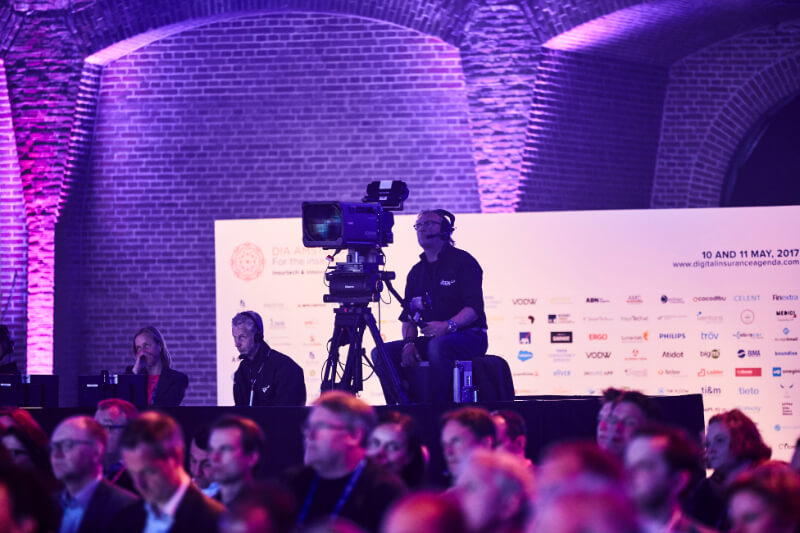 What do I need to
invest

?

Maximizing your company's impact in a premium setting with global exposure, obviously involves serious investments. DIA therefore asks Show&Tell companies to share in the costs.

Special rates are offered to startups and to keen companies that apply early. Furthermore, we ask our Insurtechs to invest sufficient time in the event preparations to ensure a top stage performance and video.

That said, DIA is proud that literally every Insurtech/tech company confirms that going on stage at DIA has brought them new business, such as new leads, clients and/or investors.Attending DIA will be well worth the investment: the kind that pays off as soon as you enter the spotlights.
"DIA brought us in contact with the top-level decision makers from all over the globe. If you are selected at DIA, you don't have to be at any other event anymore. DIA is like the 'G20' of Insurtech.."
Charles Bark
Co-founder & CEO HiNounou
"Insurers were literally overrunning our booth! Only on the first day I gave away 80 (!) business cards."
Pierre Dubosq
Managing partner Tech11
"We have been able to raise more than $33.5M and are now the best funded Insurtech start-up in Europe. DIA helped us very much to achieve this milestone"
Julian Teicke
Founder & CEO Wefox
"We got investors from Europa, Asia and the USA. Already the video is worth more than the investment in the Show&Tell package."
Kittinan Anuphan
Founder & CEO ClaimDi
"DIA is the biggest player in the Insurtech scene. It is an amazing situation to meet everyone in one place and to stay in touch with the direction the industry is heading."
Marijan Mumdžiev
CEO Amodo
"Very happy we made the trip to Europe. You can sit down and talk to the CEO's and CMO's. You hear first-hand what parts of your offering makes sense to them and get feedback in order to penetrate the market."
Sean Ruggiero
CEO Xeddi Software
"I can highly recommend this event for startups. Totally worth it."
Oliver Werneyer
Co-founder & CEO IMburse
"DIA has been phenomenal. Immediately after my presentation I already had at least ten very interesting people who wanted to talk to me from very big insurance companies looking to collaborate with us."
Njide Ndili
Country Director PharmAccess
"We do not have other events like this in insurance. Being here is probably the most important decision any start up could make if they want to understand and validate their idea."
Leanne Kemp
CEO Everledger
"The experience I've had here is that it's a very personal relationship that the organizers have with those who are presenting. I felt very well cared for and because of that the DIA experience is quite memorable."
Scott Walchek
Founder & CEO Trōv
"We have been very impressed with both the level of attendees and the types of conversations we were able to have during DIA."
Geoffrey Andrews
Co-founder & Chief Operating Officer Carpe Data
"It was well worth the time investment, and the travel investment to be here."
Leandro Burnes
Co-Founder Allm
"DIA opened doors easy for us at insurers directly at C-level. Doors that would have been so much more difficult to open ourselves. At DIA you actually have CEOs coming to speak with you at your booth."
Rasmus Meineke
CEO & Founder, comadso
"Thanks to DIA we had a great pipeline of high quality leads, opening up many new business opportunities for us."
David Gascoin
CEO, Valoo
"We want to focus our resources on just a few conferences. DIA is the conference to be at when you want to boost your international exposure and impact."
Rick Hu
Founder, Vivametrica
How to apply for DIA Show & Tell
For each DIA event, we have over 300 applications, but only 50 spots to divide.
Since speaking slots run out fast, applying early is highly recommended.
Don't miss out on the opportunity to be part of the stage!
The Show&Tell selection process
Apply for a DIA Show&Tell. You can apply without any obligations.

DIA selects 50 Show&Tell companies. Selection criteria include innovativeness, strategic impact for the insurance industry, proof of concept/insurance use cases and international appeal. Obviously, we also look at whether the solution fits the showcase-format of the DIA stage.

Once we have selected you to be one of our Show&Tell companies at DIA Amsterdam, and the agreement is signed, we will set marketing and operational support in motion. (e.g. your editorial, inclusion of your logo on our website/newsletter, mentoring process to prepare your pitch etcetera.)
Other packages
Exhibition package; for companies that don't present at DIA, but still want to have the advantage of exposure during the event and in the DIA newsletter, and for example would like to discuss/test their proposition in the market at their booth.

Masterclass/workshop formats. For mature Insurtechs who are able to provide a deep dive into a highly relevant insurance topic for the top-level DIA audience.
If you have what it takes to participate at DIA, and want to apply or would like to have further information, send an email to show&[email protected]