AdInsure: launch new insurance smarter and faster
AdInsure, Adacta's solution for the insurance industry, is a powerful insurance platform. Designed for Life and P&C insurers, it gives the functionality and capability to streamline business processes, improve user experience and manage change effectively.
Built around industry best practices, AdInsure combines comprehensive features in a single, unified platform. It delivers an innovative environment. The platform covers support for all core insurance processes such as sales, policy administrations, claims adjustment, reinsurance, billing.
The successful company provides all core process functionalities as configurable and adjustable predefined packages. This provides insurers with AdInsure standardized processes and at the same time also unlimited possibilities for tuning the functionality.
Adinsure is present in 9 countries across Central and Eastern Europe. Formed in 1989, they have spent decades helping insurance organisations to grow their digital capabilities and drive new profits. Their mission is simple: empower tomorrow's industry leaders to reach their potential through technology.
Key-benefits:
Insurers can simply download, customize and launch new offerings and significantly decrease time to market without the IT skills or knowledge
The high degree of configurability means that they can configure all new emerging insurance risk easily and provided them as easily downloadable and tunable content packages. This allows their clients to launch these new products really fast.
Adacta makes life easier for both business and IT-users
The platform's business functionality makes every business user's job easier by streamlining and automating workflows. And when it comes to implementing new processes or operational strategies, AdInsure's technical capabilities gives the IT team flexibility.
Adopt processes and responses to market demands
Creating new products or changing predefined processes is quite easy. Clients can easily configure quotes, underwriting processes, claims processes, business rules, and forms—all independently of Adacta. 
AdInsure insurance content
Everyone is able to produce content packages and make them available to the clients. Adacta sees this is a key to shortening time to market for new insurance offers as well to establish some kind of industry best practices across insurance processes. 
Hassle-free upgrades
They regularly update AdInsure to incorporate the new features insurers need, based on industry trends and Clients feedback. Even in case of custom configurations, they always provide an upgrade path, so clients are assured that adoption of processes still allows them to enjoy the benefits of platform upgrades. 
Open
Having 100% of functionality exposed as RESTful API, AdInsure was designed as a truly open platform which lets insurers harness digital sales channels and integrate with portals, clients, and partners. 
Maximise efficiency processes
AdInsure provides strong support for process and decision-making automation. All process workflows can be automated via business rules. 
Consolidation of the IT infrastructure
AdInsure allows insurers to consolidate on a single platform. This way, the IT team can spend less time on maintenance and more on value-adding activities. 
One platform for all lines of business
AdInsure helps to phase out legacy systems gradually.
​How it works
AdInsure insurance platform screens: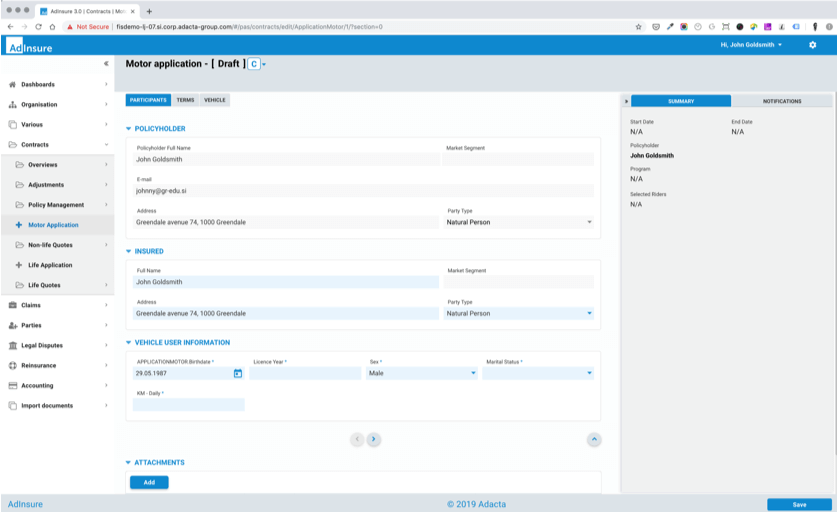 AdInsure Store:
Why we selected Adacta Fintech for DIA Munich
In today's modern business environment, how well you meet customer expectations greatly depends on how modern and innovative your operational processes and IT-systems are. The core system of Adacta insurers can consolidate the massive amounts of data they work with, effectively manage their back-office operations, and increase their productivity while reducing costs and human errors.
AdInsure predefines new insurance products and allows insurers to offer new risk coverage to their clients in a matter of days. Due to their modular and flexible architecture.
At DIA Munich Zoran Slanič, CEO Adacta Fintech and Jernej Mazi, Sales and Business Development EU & Adriatic's showcased this on the example of the predefined e-scoter product.
Who is Adacta Fintech?
Adacta Fintech is a leading software provider for the insurance industry. Their insurance platform, AdInsure, gives Life and P&C insurers a future-proof way to streamline their operations and processes. Formed in 1989, they've spent decades helping insurance organisations to grow their digital capabilities and drive new profits and have more than 20 successful implementations in 9 different countries.
"Our mission is simple: empower tomorrow's industry leaders to reach their potential through technology already today!" Zoran Slanic, CEO
                    
Jernej Mazi,                                                                                       Zoran Slani, CEO
Sales and Business Development EU & Adriatics