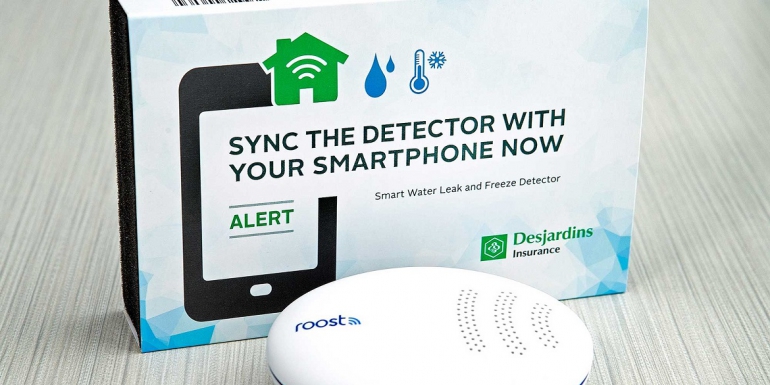 Roost: Home Telematics Solutions enabling Digital Engagement & Claims Mitigation
Californian-based Roost is an insurtech company focused on disrupting the traditional Property Insurance model through a "Telematics for the Home" approach. They are the lowest entry point into the smart home market with a $30 smart 9V battery that transforms smoke alarms into smart alarms and a smart water leak & freeze detector for less than $40. Both provide peace-of-mind to homeowners and rich data to insurers. Roost delivers these affordable, easy to install Wi-Fi solutions throughout the home with their mobile app and cloud-based notification engine.
Roost's primary GTM approach is through Insurance companies deploying directly to their policyholders. The effect is a reduction in claim cost expenses (Fire and Water perils costing $20B/year in US) as well as driving policyholder engagement through a content rich, digital mobile app experience, impacting retention and customer acquisition. Roost is focused at changing the way home insurance models assess risk and pricing on a real-time basis for each home.
Their innovative solutions fix practical, everyday problems in the home. Their unique, patented connected platform is simple to install and an affordable way for consumers to enter the smart home space. They are also partnering with some of the smartest Insurance companies in the world to deliver telematics for the home; Desjardins, Aviva, FMI & Hippo Ins.
Value propositions for the insurance industry:
Roost's property telematics solution has a number of value propositions for the Insurance industry:
Reducing the cost of property claims, specifically with fire and water perils through early warning and mitigating actions
Through the smart device deployment and creation of a co-branded mobile app. This creates a new branding opportunity for the insurer on the mobile phone.
Enables the ability to communicate via verified email, SMS or push notification with policyholders for broader brand building and cross selling of insurance solutions
The establishment of pervasive sensor data in the home will enable more insight to the property underwriting process.
How it works
Roost uses Wi-Fi to make the home even safer. Whether it's fire, carbon monoxide, natural gas or water damage, Roost makes it easier and more convenient than ever to keep families and homes safe. Their simple, do-it-yourself, connected solutions are affordable and take just minutes to install. No unnecessary control panels. No bulky hubs to hide.
Why we selected Roost for DIA Amsterdam
The insurtech innovation from Roost is a unique cost effective "Home Telematics" platform solution to address the claims cost mitigation of both the Fire and Water perils in homes and small commercial properties. In addition, they have a demonstrated positive impact on policyholder retention, engagement and acquisition. Roost devices are affordable and can transform the historical paper relationship between insurer and consumer into a more meaningful and tangible relationship.
The primary showcase topic at DIA Amsterdam is an update on the "Home Telematics solution" – Carrier traction and deployment results over the past 12 months. Roost will be able to share the high-level results and lessons learned with shipping > 150,000 smart sensors directly to consumer policyholders through 10+ partners.
Key points:
How digital engagement of policyholders is uniquely driven by Home Telematics
It's more than mitigating the claims cost of fire and water
The challenge of moving beyond small pilots to larger deployments
Getting carriers to act on investing in innovation
The importance of a well thought "customer journey" to drive higher activations of smart devices.
Update on Roost's and Willis Towers Watson "Home Telematics Consortium" to aggregate data from multiple carriers.
Who is Roost?
Roost is an Insurtech based in Sunnyvale Ca. Established in June 2014, they have raised $USD 17M and just closed their Series B round in Sept 2016. In addition to traditional VCs, they have 4 Insurance strategic partners: Aviva, Desjardins, USAA and Fosun.
"We are excited to be speaking at DIA Amsterdam this year to introduce the Home Telematics Solution from Roost. We have validated the value proposition of customer engagement and claims mitigation in the North American market and are looking forward to broadening our exposure across the European marketplace." Roel Peeters CEO & Co-founder Roost
Website: www.getroost.com
Presenter: Roel Peeters
Contact info: David Henry
Email: [email protected]