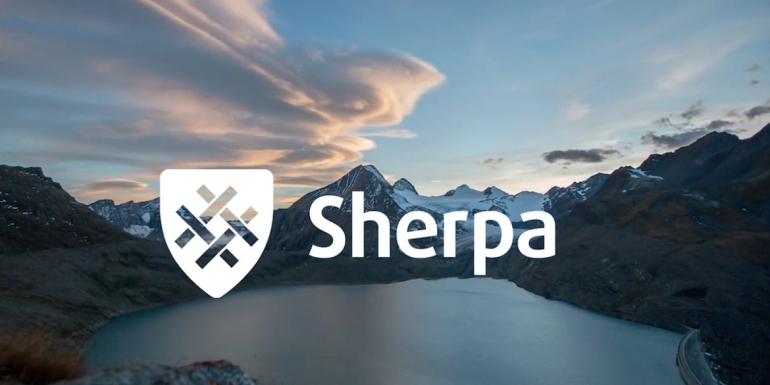 Sherpa: Insurance. Now it's personal
UK based Sherpa is an innovative & disruptive digital startup for personal risk management in the insurance market that uses technology to analyze risk profiles. Shaking up the traditional insurance model to benefit consumers. They target people who are dissatisfied with the way insurance works today. Sherpa wants a smarter, more personalized experience. With a single point of contact. Sherpa claims to "not be in cahoots with the insurer" and helps consumers who are going through specific life events that requires them to look at their insurance more holistically. These tend to be stressful and Sherpa believes they can take a huge, unattractive and time-consuming problem and make it go away. Sherpa is a trusted guide, someone to do all the searching, paperwork and drudgery. Using the consumer's own data for their benefit. Instilling confidence that consumers have the right insurance at the best price, automatically. Sherpa doesn't use fear or price to pressure consumers to buy, but rather data and actuarial science to empower the customer to understand what they need. Based on this information Sherpa creates a fully encompassing personal protection package for that customer. The package is unique, as all customers are unique. They monitor their customers through a series of APIs. Sherpa looks at how their lifestyle, household, career, family, financials, health and travels change and how that change impacts the consumer risks. Protection changes based on this data. Lastly, Sherpa doesn't take commissions, but rather forfeit them to assure their interests are aligned with their customers. Sherpa is what insurance looks like when it isn't run by insurance companies.
Sherpa is the first UK insurance startup focusing on no commission and on value, not price, as well as benefitting customers by allowing them access to data. Their revenue model is a monthly membership subscription to the Sherpa service. That way, their incentives are completely aligned with their members' – they don't get paid to sell more insurance, they get paid if they prove their worth by getting customers the right insurance, at great value. Sherpa members get an unbiased view on what they should be using insurance for, and what is just a waste of money, a single underwriting process that treats them like a human being rather than a statistic, and the ability to get covered at the click of a button. No more insurance companies. Effortless, personalized insurance.
The new business venture will be operating in all insurance sectors, including home, health, life, travel, car, devices and pets, to provide a truly connected, worry-free solution to life risks. This truly smart insurance business is set to launch to UK consumers late 2017, with aspirations to grow a global community of partners and consumers.
Consumer first…Sherpa is turning the insurance industry on his head
Sherpa's ambition to reinvent insurance from the ground up grew out of frustrations in the failures and inefficiency of digital insurance businesses in the 21st century explains Chris Kaye, CEO of Sherpa. "The average affluent household in the UK spends around £2,600 a year on insurance premiums. And yet, everybody has the wrong insurance. There are gaps, duplicate coverage and obsolete policies. Consumers are apathetic, renew year after year and because of the industry focus on price there is a total misalignment of risk, value and cost. To make matters worse consumers HATE insurance. Three out of four do not think their insurer will live up to its promises. And insurance companies rank in the bottom quartile for simplicity and trust. Sherpa is turning the industry on its head, so that people are in control, make informed decisions, and engage proactively and willingly in managing their own risk. Starting with the customer at its heart, Sherpa built an interface designed to replace insurance for the modern connected consumer. Partnering the traditional advanced mathematics, risk analysis and actuarial science of the insurance industry with cutting-edge AI, bot technologies as well as new customer engagement platforms. Sherpa is transforming insurance as you know it. Creating a simple, comprehensive solution for personal risk management. A trusted guide, unequivocally on the consumers' side. The insurance industry now needs to wake up to providing a service that also puts the consumer first."
Making this happen is a little complex. Sherpa has built a unique and patented 'brain' that automatically analyses risks. They had to come up with a totally new way of underwriting, underwriting holistically rather than as series of products. They have blown up the value chain, cutting about 40% of the cost out. And they have invented a new revenue model that aligns their interests unequivocally with their members.
Sherpa. A smart, digital interface between the consumer and the entire insurance industry.
Why we selected Sherpa for DIA Amsterdam
We're very pleased Sherpa wants to showcase their game-changing approach at DIA Amsterdam. Sherpa is reinventing insurance from the ground up with a strong consumer-focused approach. Providing personal risk management in the insurance market by analyzing a customer's risk profile, independently of insurers. Sherpa will be a trusted guide supporting the modern connected consumer by replacing the searching, paperwork and menial tasks of traditional insurance to find the right insurance at the best price. Helping customers understand what they really need based on their own data and actuarial science.
Sherpa simplifies the whole insurance process; adhering to required regulation but reinventing aspects of the value chain, distribution and not charging commissions.
This startup can be a catalyst for change for the whole insurance industry. Opening new revenue streams and increasing cost savings.
Who are Sherpa?
Sherpa's ambition to reinvent insurance from the ground up grew out of frustrations in the failures and inefficiency of digital insurance businesses in the 21st century. The Sherpa revolution is driven by a team of serial entrepreneurs, insurance industry veterans, tech geeks, mathematicians, data wizards and marketing gurus. Founded in 2016 by Chris Kaye, CEO (former Partner, head of BCG's Insurance Practice in Asia); Lachlan Gilies, COO (former Director, Deutsche Bank, head of Asia Technology Ops) and Greg McCafferty, CFO (former COO Absolute Return Investments, and Global Head of Equity Finance at Macquarie Group).
The founders injected their own money to fund the first 12 months of the business while developing and testing the proof of concept. Sherpa is on the point of closing their first external money- a seed round from individual angel investors, which will bring total funding to $ 2 million. They chose to do this primarily through their existing networks. Their investors are not in the public domain, with one exception, Merhdad Piroozram and his insurtech.vc team are on the slate.


Chris Kaye, CEO and founder Sherpa
"Sherpa is a trusted guide supporting the modern connected consumer by replacing the searching, paperwork and menial tasks of traditional insurance." Chris Kaye, CEO and founder Sherpa
Website: www.justsherpa.com
Presenter: Chris Kaye
Presenter: Tracy Seidensticker
Contact Info: Tracy Seidensticker
Email: [email protected]
Telephone: +1 917 375 0676