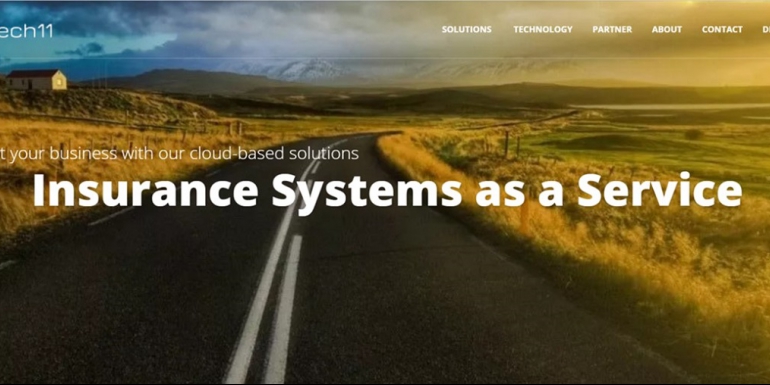 tech11: Unique digital core insurance solutions. End2End. For P&C.
tech11 is a promising German startup who provides core insurance solutions for the insurance industry in EMEA. Their solution is unique in terms of technology stack following one principle: generating the highest business value throughout best-in-class technologies. The tech11 core insurance platform has been designed for fully automated digital E2E insurance P&C business and is based on the latest technology. It is driven by a unique container-based microservices architecture. All modules can be used stand-alone or in any combination. They can go into production fast and cost-efficient. Any integration is easily managed by Web Services. Hosting is provided on-premises or cloud-based.
The modular solution is designed as Container-based micro service architecture and is highly integrable due to a web services API gateway and comes with modern ES6 based user interfaces. Business users can easily configure products by a powerful product engine. Tariffs are defined in MS Excel and are just uploaded to the rating engine. Customizing and integration follows a "zero code" approach driven by Camunda's BPM engine.
tech11 understands how the specific needs in core insurance varies between insurers, depending mainly on size and business model:
Digital insurers need a lean and digital platform to manage not only their current business, but also their next business model in the near future.
Small, traditional insurers are searching for complete core insurance solutions or dedicated components and are open for cloud-based operations to reduce costs.
Medium-sized and large insurers tend evermore to build up digital insurers aside or are searching for complete packages to quickly enter new strategical markets or test product innovations.
Reinsurers are redesigning their client relations by investing in digital core solutions.
Insurtechs want to enlarge their value chain and need a complete backend-solution, recognizing that front-end solutions only, may limit their growth perspective.
How it works
This diagram is just a helicopter view of the tech11 Insurance Platform
The tech11 platform is based on a micro services architecture. From a technological point of view, all services are fully independent of one another and allow the use of any technology for any specific service. Just use the Right Tool for the Right Job.
In that way tech11 can further develop, deploy or replace all single modules separately. Users can orchestrate all services inside the central ICE module (ICE: integrate – control – extend). The ICE module is a Business Process Management System (BPMS) in which users easily manage all customizing requirements. Allowing users to seamlessly reuse or integrate services.
Why we selected tech11 for DIA Munich
Today, legacy back-ends are the main barrier for insurers to quickly adopt to rapidly changing client behavior and expectations. Besides reaching operational excellence, it is key for insurers to open up the existing system landscape to become part of growing ecosystems. Other market players are using their technological advantage to gradually enter into the insurance business.
tech11´s core insurance solutions are able to manage complex requirements running stable and secure policy and claims administration with a fully disruptive approach regarding both, use of technology and facilitate business operations. Tech11 is the digital provider for the insurance industry.
Who is tech11?
Founded in 2018 in Germany by Pierre Dubosq and Matthias Reining.
Pierre is an entrepreneur with a strong business development attitude, leading different IT companies in the insurance industry in EMEA as Sales or and Managing Director in the past 15 years.
Matthias is a tech guy with almost 20 years' experience in the insurance industry. He worked in many IT projects across Europe in different fields: from software development / architecture over project management up to presales – always with a strong passion for technology.
The tech11 product is ready-to-use, plus dedicated product roadmap; team staffing currently started; building up system integrator partnerships aside.

Pierre Dubosq (left) & Matthias Reining (right)
"At tech11 we want to disrupt the complex world of core insurance, being today´s key barrier for insurers to adopt in a rapidly changing digital world – understanding ourselves as close and exquisite technological partner of insurers and reinsurers." Pierre Dubosq, Managing Director & Founder tech11
https://tech11.com/en/